Val Venosta / Vinschgau, South Tyrol
hotels and apartments
sport and leisure
localities
information
?

Your search
Laces - Val Martello / Latsch - Martelltal: Hotels, B&B, Residence and holiday apartments
Val Martello / Martelltal
Hotel Burgaunerhof is the right place for a wellness holiday in South Tyrol. You will find countless possibilities for your moments of pleasure and relaxation: hiking and nordic walking in the Stelvio National Park, cycling along the bike path in Vinschgau and much more
offers
21/10 - 04/11/2018

from 497€ per week
Characteristics
The B&B Garni Tannenhof is located in a quiet and sunny position, from where you can enjoy a wonderful view of the gorgeous mountains and orchards of Lacies/Latsch. In the Garni you'll find a lovely and comfortable atmosphere and you'll have at your disposal a wide garden, a...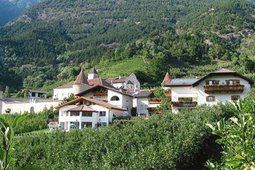 Coldrano / Goldrain (Laces - Val Martello / Latsch - Martelltal)
Family-friendly Pension & Residence in a beautiful location, with indoor pool, spa, lawn and garden area and breakfast buffet. If you appreciate hospitality in a convivial atmosphere, if you enjoy relax then welcome to the Residence Obkircher, your home while you are on holiday.
Val Martello / Martelltal
In midst of the National Park Stelvio lies the Val Martelllo which is a real hiking paradise: discover nature, hike from the valley to alpine pastures, mountain huts, glaciers and the top of mountains! The valley is famous for its delicious strawberries which are harvested from...
offers
29/09 - 18/11/2018

from 336€ for 6 days
Characteristics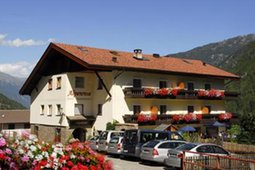 Val Martello / Martelltal
Residence Alpenrose welcomes its guests in an inviting house, located on the sunny side of Val Martello. Rest and relax, enjoy the panoramic view of the valley and the surrounding mountains in the fresh air... everything is waiting for you here. Every day will be special.
Coldrano / Goldrain (Laces - Val Martello / Latsch - Martelltal)
The Activ Resort Bamboo is located in the heart of the Venosta Valley in South Tyrol, between Merano and the Austrian border. It offers a nice and cosmopolitan atmosphere, combining Tyrolean traditions with the spirit of Asia.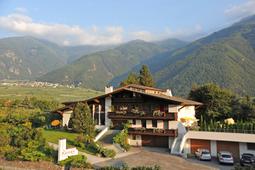 Distant only a 5 minutes walk from the centre, this Garni is located in the middle of fruit orchards and majestic mountains, in a quiet place.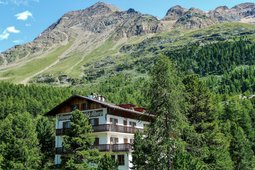 Val Martello / Martelltal
Right outside the hotel door you will find a beautiful mountain panorama: mountain air, pure water springs, green meadows and the sound of cowbells. In winter the landscape changes completely: snowy peaks, frozen waterfalls, forests dressing a white coat and a clear blue sky.