Val Venosta / Vinschgau, South Tyrol

Your search
:) We liked it!
Accommodations with the largest number of positive reviews in the last 12 months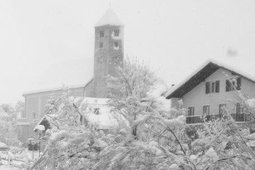 The best accommodation in Lasa 23 July 2019
"Wonderful breakfast and majestic place and treatment. The b&b is in a perfect position and Rosi is super friendly. Best breakfast of all..." continue
Description
The Garni Froy is located in a quiet and sunny area and enjoys a beautiful panoramic view of the Reschensee. The strategic location makes it easy to reach the most interesting attractions of the surrounding area and admire the landscape of the Vinschgau Valley.
Characteristics
Tubre in Val Monastero / Taufers im Münstertal
Description
The House Rufinatscha offers you the holiday of your dreams and represents the ideal accommodation for those whishing to relax, practise sports and get to know the culture of Val Venosta. Here you will have fun discovering the surroundings of Tubre and the valley.
Characteristics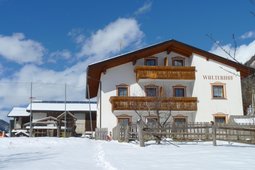 Description
The Lechthaler family welcomes you in the farm Walterhof with cows, cats and rabbits. At the Walterhof you will find a familiar ambience and you will be able to relax and enjoy the surrounding nature.
Characteristics
San Valentino alla Muta / St. Valentin auf der Haide
Description
The holiday apartments of the Haus Solaris are located in San Valentino alla Muta, in the middle of the mountains of the Venosta valley, and represent an ideal accommodation for families, groups and also elderly tourists. The entrance is on the ground floor, close to a forest.
Characteristics
Description
Enjoy your holiday at the Wielander Sackgut and feel like at home. This family-run business is situated near the cycling path, surrounded by fruit trees and in an excellent position for those who love going for a walk.
Characteristics
Description
Haus De Martin welcomes you in the locality Lasa. The house offers cozy apartments or rooms bed and breakfast treatment. The accommodations are equipped with sat-TV, terrace, outdoor parking and a very nice garden.
Characteristics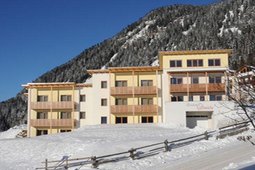 Description
In the Residence Daniela in Resia, managed by the Hofer family, you will enjoy most amazing days of your year. The modern and spacious apartments are ideal for your holiday in the mountains and all of them feature a balcony with lake view!
offers
28/01 - 10/02/2020

490€ per week
Characteristics
San Valentino alla Muta / St. Valentin auf der Haide
Description
Welcome to the Hotel Lamm in St. Valentin! Your holiday in the Alps. The 3-star hotel is located in the beautiful Vinschgau Valley, in the region of the Lake Reschen, at the crossroads between Austria, Switzerland and Italy. Holidays are here for everyone.
Characteristics