Val Venosta / Vinschgau, South Tyrol
hotels and apartments
sport and leisure
localities
information
?

Your search
:) We liked it!
Accommodations with the largest number of positive reviews in the last 12 months
Prato allo Stelvio / Prad am Stilfserjoch
Description
The Grösshof is a family run holiday house located 1,200 m a.s.l. in the Stelvio National Park, in a sunny and quiet spot above the ruins of the Montechiaro Castle. A breathtaking panorama of the whole Venosta valley is waiting for you.
offers
19/01 - 02/02/2019

50€ per day
Characteristics
Description
Enjoy your holiday at the Wielander Sackgut and feel like at home. This family-run business is situated near the cycling path, surrounded by fruit trees and in an excellent position for those who love going for a walk.
Characteristics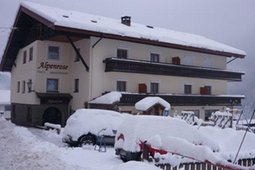 Val Martello / Martelltal
Alpenrose 28 August 2017
"This apartment have a lot of advice for us. Perfect position for every trips what you like. We can go to towns, on mountains or go to small walk easy from this..." continue
Description
Residence Alpenrose welcomes its guests in an inviting house, located on the sunny side of Val Martello. Rest and relax, enjoy the panoramic view of the valley and the surrounding mountains in the fresh air... everything is waiting for you here. Every day will be special.
Characteristics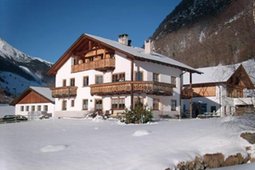 Malles - Mazia / Mals - Matsch
Description
Welcome to the beautiful Tumpaschin farm in Malles, located in a quiet and family friendly spot perfect for hikes and excursions. This is an ideal accommodation for a holiday in the mountains with the whole family, to enjoy unforgettable days far from the usual stress.
Characteristics
Description
The Garni Froy is located in a quiet and sunny area and enjoys a beautiful panoramic view of the Reschensee. The strategic location makes it easy to reach the most interesting attractions of the surrounding area and admire the landscape of the Vinschgau Valley.
Characteristics
Malles - Burgusio / Mals - Burgeis
Description
Treat yourself to a feel-good holiday in the heart of the fascinating and idyllic mountain landscape of the Upper Venosta Valley! The warm and welcoming family-run hotel with its stylish ambience is centrally located on the upper edge of the village of Burgusio.
offers
19/01 - 02/02/2019

from 232€ for 5 days

03/02 - 16/02/2019

from 240€ for 5 days

17/01 - 07/03/2019

from 257€ for 4 days
Characteristics
Description
The Tannenhof guesthouse is located in a quiet and sunny position, from where you can enjoy a wonderful view of the gorgeous mountains and orchards of Lacies/Latsch. Here you will find a lovely and comfortable atmosphere, a wide garden, a sunny terrace and a large car park.
Characteristics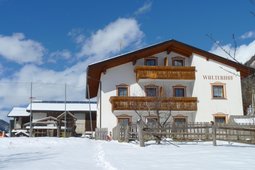 Description
The Lechthaler family welcomes you in the farm Walterhof with cows, cats and rabbits. At the Walterhof you will find a familiar ambience and you will be able to relax and enjoy the surrounding nature.
Characteristics